Doc
April 7, 2008 - November 2, 2021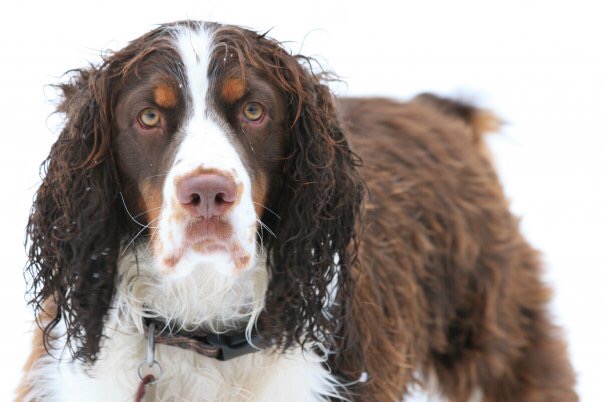 Dad got his co-pilot back this afternoon. I'm incredibly thankful for the time I had with him and especially the last two after my dad passed away. I've always told people "I wish I didn't have them but I'm happy I have them" -- my dad's only concern when he got sick was that Doc and Molly would have a good home and I've made sure they are the two most spoiled dogs in the world.
Doc had a really good day last day. He walked up the Mississippi (past his favorite spot) up to the spillway and around the disc golf course at the campgrounds; his second walk was around the old deer park across the street. He went for a car ride so he could split a bacon cheeseburger (and my last bite of chicken strips) from Kwik Trip for dinner and got the last Greenie in the bag (this was literally his favorite treat in the world).
He started getting sick around midnight and he got to spend the night with me curled up around him with one of my mom's blankets on top of him. With Molly by his side, I took him to the vet immediately when they opened this morning and blood work showed he developed Hyperosmolar Hyperglycemic Syndrome (HSS) practically overnight (unlikely related to the bladder cancer diagnosis he received this summer). By mid-afternoon, it was clear his kidneys and liver were shutting down and it was time to let him go.
Believe in whatever you want (or chalk it up to coincidence if you'd like), but Molly and I took a walk along the river this afternoon and two bald eagles were perched in the top branch of a tree directly above the place I had decided I'd spread Doc's ashes when he passed away [when I found out he was sick earlier this summer]. I couldn't believe these two eagles decided to pick that exact tree, on this particular day, as I walked by the spot; I looped back the same way as I left the campgrounds and they were still there -- they didn't seem concerned by me at all as I walked within ~15 feet of the tree and looked up at them.
My mom strongly believed in "looking for signs," she used to talk about it ever so often when Chris and I grew up. Coincidence or not, I found peace in seeing these two birds in Doc's spot near the river.
Rest easy, Bud-Bud.
April 7, 2008 - November 2, 2021
I loved his spunkiness when you saw anyone -- the passes between their legs so you could get a butt scratch and the accidental tackles when you tried to get close. Molly drew from his excitement for walks, chews, and especially car rides. I loved seeing his eyes light up everytime I grabbed his brush. I'll always cherish hish nightly foot baths/massages (but let's not tell Mom)... and who could forget his snoring? It brought joy to anyone who ever had the pleasure of hearing, it was incredibly relaxing when winding down for the night, and why you got the nickname, Snoozer.
He always found the best places to lay down in the yard when I did yard work. He loved being the lookout at the house, spending a lot of time relaxing on the front steps keeping an eye on the neighborhood. He'd bark affectionately and run over to greet our friends and neighbors (chasing after their car or blocking the driveway until they got out). He didn't like summer storms, so we became thunder buddies pretty quick spending many summer nights in the basement -- that might have been his excuse to cool off in the basement though, he was a pretty smart pup.
He always hated when I'd leave the house without him and he'd try his best to sneak out with me -- he'd cry so much that I wouldn't want to leave... but it was one of the best feelings in the world when I'd come home and I'd see how happy he was to see me. His tail would be wagging so fast I'm surprised he didn't fall over and he'd take laps through my legs so he could get favorite back and butt scratches.
One moment I will always hold close to my heart is when Doc, Molly, and I took our normal walk through the Prairie Island Campgrounds when we saw the Bob's Smokehouse Ribs food truck and decided to stop by for some food. Doc immediately sat down one to one of the worker's feet who happened to be on break. He made friends with all five or so workers before we ordered food. We sat down at one of the picnic tables near the camp store and split a beef brisket basket and a catfish basket. He ate the brisket so fast I can't imagine he even tasted it but he definitely liked it -- the people at the food truck got a good laugh out of that one.
This memory made me realize how lucky I am to have a quiet and slow life -- we were able to take as much time as we wanted on the walk, we happened to see a food truck and decided to get dinner. I remember thinking "This is so nice," when I was waiting for the catfish to cool enough so Doc and Molly could have a bite.